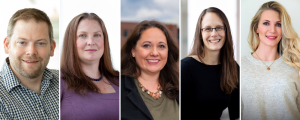 By Stacy Penner on August 29, 2023
UBC Okanagan professor Dr. Sarah Purcell is now being recognized as a world-class researcher. As part of the latest funding announcement from the federal government, Dr. Purcell, an Assistant Professor in the Southern Medical Program and in the Department of Biology, is the new Tier 2 Canada Research Chair in Nutrition and Metabolism in Chronic […]
Posted in Announcements, Research | Tagged funding, Office of the Vice-Principal Research, Research
By Jenny Matechuk on January 12, 2022
Drs. Jennifer Davis (Faculty of Management), Isaac Li (Faculty of Science) and Astrida Neimanis (Faculty of Creative & Critical Studies | Faculty of Arts & Social Sciences) were each awarded Tier 2 Canada Research Chairs for their groundbreaking work. Davis and Li also received CFI-JELF funding in partnership with the Canada Research Chairs (CRC) program.
Posted in Announcements, Faculty of Creative and Critical Studies, Faculty of Management, Infrastructure, Irving K. Barber Faculty of Science, Media Release, Research, Research and Innovation (Office of the Vice-Principal) | Tagged CRC, Infrastructure, JELF, Research
By Jenny Matechuk on July 27, 2021
A new Research Data Centre (RDC) is now open at UBC Okanagan, as part of a national network of 30 university-based research facilities across Canada.
Posted in Announcements | Tagged RDC, Research, StatsCan
By Jenny Matechuk on July 23, 2021
Researchers applying for an NSERC Alliance grant are required to complete a risk assessment form for projects involving private sector organization partners. Any identified risks will require an accompanying risk mitigation plan.
Posted in Announcements | Tagged Alliance, NSERC, Research