Five researchers, one new recruitment form 2023 PRCs
Five exceptional researchers from UBC Okanagan have been recognized with the title of Principal's Research Chair.
Now in its fifth year, the Principal's Research Chairs (PRC) program is an initiative of the Office of the VPRI and the Office of the Provost and Vice-President, Academic and provides financial research support for UBC Okanagan faculty engaged in outstanding research or creative scholarship. UBCO PRCs are expected to be leaders that will build and intensify the research ecosystem at UBCO.
The PRC program helps retain top researchers and recruit new talent to UBCO. PRCs also serve to support and intensify ongoing research with the ultimate goal of achieving further external recognition and awards. Each PRC recipient receives five years of funding in one of two tiers.
Five UBCO researchers have been named as the campus's newest PRCs. One additional allocation will be used to recruit a top-caliber faculty member who will become a Tier 2 PRC in the School of Nursing.
Tier 1 Chairs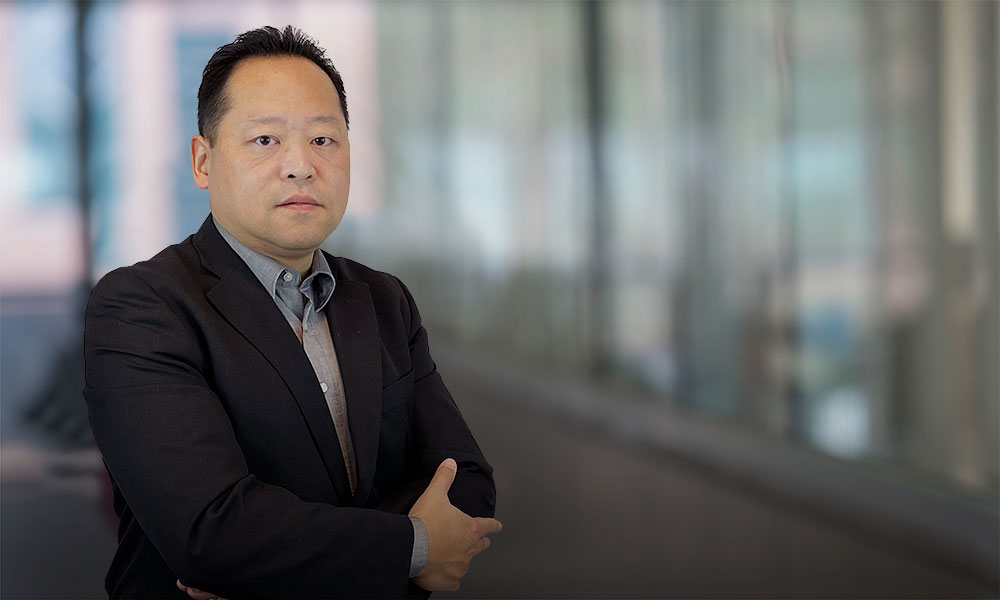 DR. JULIAN CHENG, PRINCIPAL'S RESEARCH CHAIR IN WIRELESS SYSTEMS (TIER 1)
Dr. Julian Cheng's research in next-generation wireless technologies is driven by the needs he sees in the world.
A Professor in the School of Engineering, Dr. Cheng's research interests range from ultraviolet (UV) communication to wireless robotics communication to integrating artificial intelligence into wireless networks. Many of his recent projects are related to UV communication, which uses wavelengths of ultraviolet that don't necessarily travel in a straight line. Because the signal can drop sharply and scatter, UV communication is extremely difficult to intercept or interfere with compared to traditional wireless communication using radio frequencies.
"It's a niche technology, but we are the leaders in this area in North America," says Dr. Cheng.
There are military and civilian applications to his research, particularly when it's used for sensing. Forest fires, for example, emit ultraviolet signals that could be detected by a UV sensor, and there are also potential applications in search and rescue.
Whether it's related to UV communications or ensuring robots can collaborate to finish complex tasks, Dr. Cheng is inspired to continually improve and advance his research. "I find it very satisfying to identify a new research problem from the actual implementation of our work," he says. "Our research is driven by the needs of the actual system we're working with."
That said, training the next generation of talent is always front of mind in his research.
"Ultimately, it's not about the prototype or the paper we're producing, but the students we produce, especially at this stage in my career."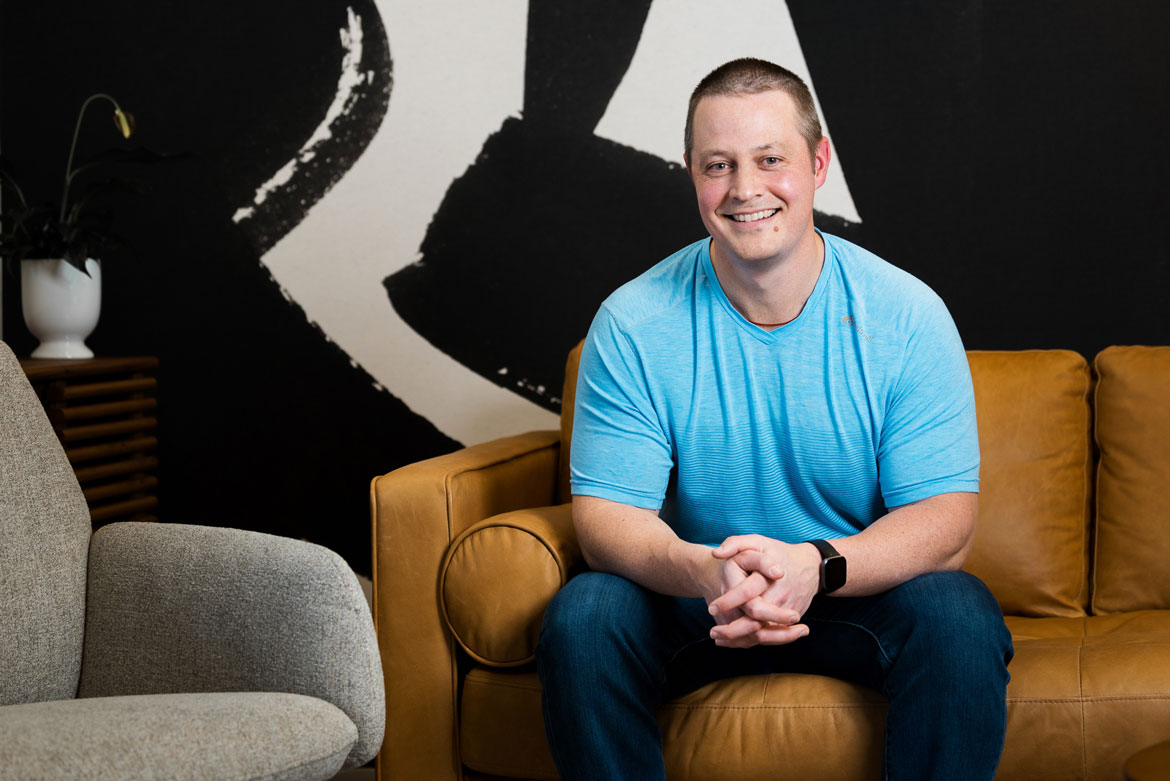 DR. KYLE LARSON, PRINCIPAL'S RESEARCH CHAIR IN Tectonics (TIER 1)
Growing up in the Fraser Valley, Dr. Kyle Larson could see Mt. Baker from his back porch. His early curiosity about this large volcano in the middle of flat farmland eventually led him to become a world-leading expert in the movement and collision of Earth's tectonic plates.
His research explores how mountains are formed due to the movement of tectonic plates. This work is important not only in understanding Earth's geological history, but also in quantifying how large-scale tectonics are related to Earth's natural climate fluctuations, enabling a better understanding of the specific impact humans have had on Earth's climate.
In addition to being a Professor and Department Head of Earth, Environmental and Geographic Sciences, Dr. Larson is Director of the Fipke Laboratory for Trace Element Research (FiLTER), where he's led the development of new, improved methods for determining geological age using minerals and a reactive gas in a specialized "collision cell."
"This new method allows us to date many different minerals that we haven't been able to date before," says Dr. Larson.
The new dating method can help target exploration of critical minerals like lithium, copper or nickel that are crucial for transitioning to a greener economy.
As important as his research is, he's most inspired by what it enables: the training of highly skilled professionals in his lab on new methods and their unknown future achievements.
Tier 2 Chairs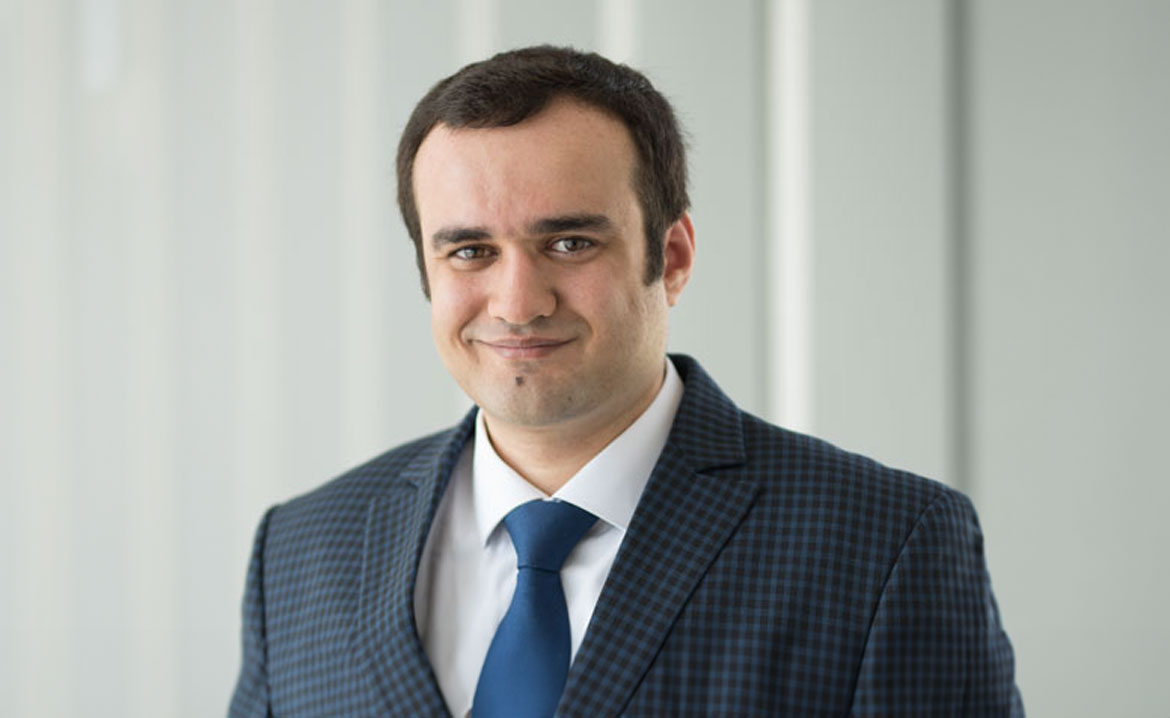 Dr. Amir Ardestani-Jaafari, Principal's Research Chair in Data-Driven Operations Management (Tier 2)
Before he was an Assistant Professor in the Faculty of Management, Dr. Amir Ardestani-Jaafari's background in industrial engineering left him wanting more of a direct impact on people.
"In management, our primary focus is on thoroughly understanding and defining the underlying challenges and their implications," says Dr. Ardestani-Jaafari. "I sought to apply my background in math and engineering to create a meaningful impact on society by addressing real-world challenges."
His research in operations management works to make systems more effective and efficient, from manufacturing to health care to supply chains. Often using real-time data and sensors, Dr. Ardestani-Jaafari incorporates predictive models to help make decisions and to prepare for worst-case scenarios. He loves that his research can be applied to diverse areas, with current projects looking at flooding disruptions to BC's supply chain, predicting the lengths of telehealth appointments and determining the impact of gas prices on rural food banks.
"Operations management permeates all aspects of industry and business," says Dr. Ardestani-Jaafari.
Dr. Ardestani-Jaafari stresses that the PRC honour is not just for him, but for his entire research group. "This is a result of teamwork, and we celebrate this achievement as a team."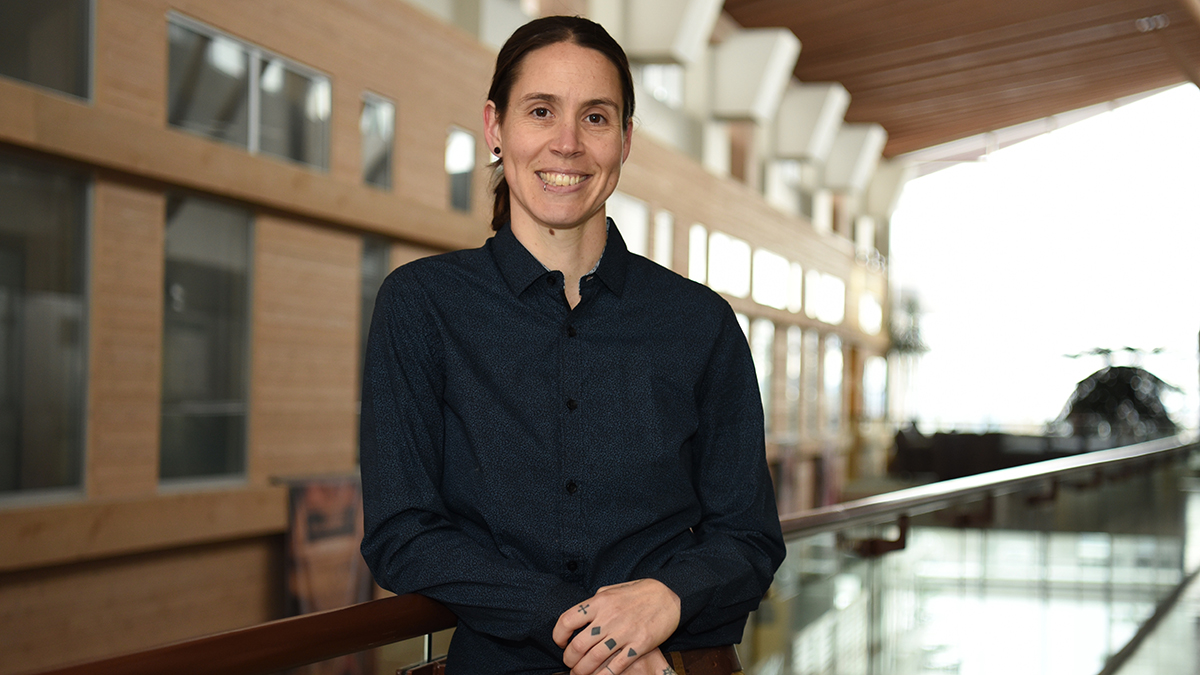 Dr. Onyx Sloan Morgan, Principal's Research Chair in Communities, Justice and Sustainability (Tier 2)
When they started university, Dr. Onyx Sloan Morgan had a lot of questions about injustices faced by communities in BC and how decisions created these conditions. Now an Assistant Professor in Human Geography, Dr. Sloan Morgan works with mostly rural and Indigenous communities who have invited them to work on priority topics like environment, justice and health.
Currently, Dr. Sloan Morgan is working with Binche Whut'en First Nations, whose unceded traditional territory is in northern BC, to document the ongoing legacy of mercury mining on their lands, which included dispossessing community members for the mine.
"We ask, how do we hold these legacies and if the community decides to share this history, what does it look like? How does the community want to move forward?"
This particular project involves creating a documentary. Other projects include documenting the modern treaty implementation process with the Huu-ay-aht First Nations, determining how fire has impacted communities across BC differently and expanding the presence of UBC's new Centre for Climate Justice to the Okanagan campus.
"My work looks at larger systemic questions that help us to understand how we got to this moment. From that understanding, what can we do to address where we are and envision justice by and for communities who bear the brunt of harms we see happening today?"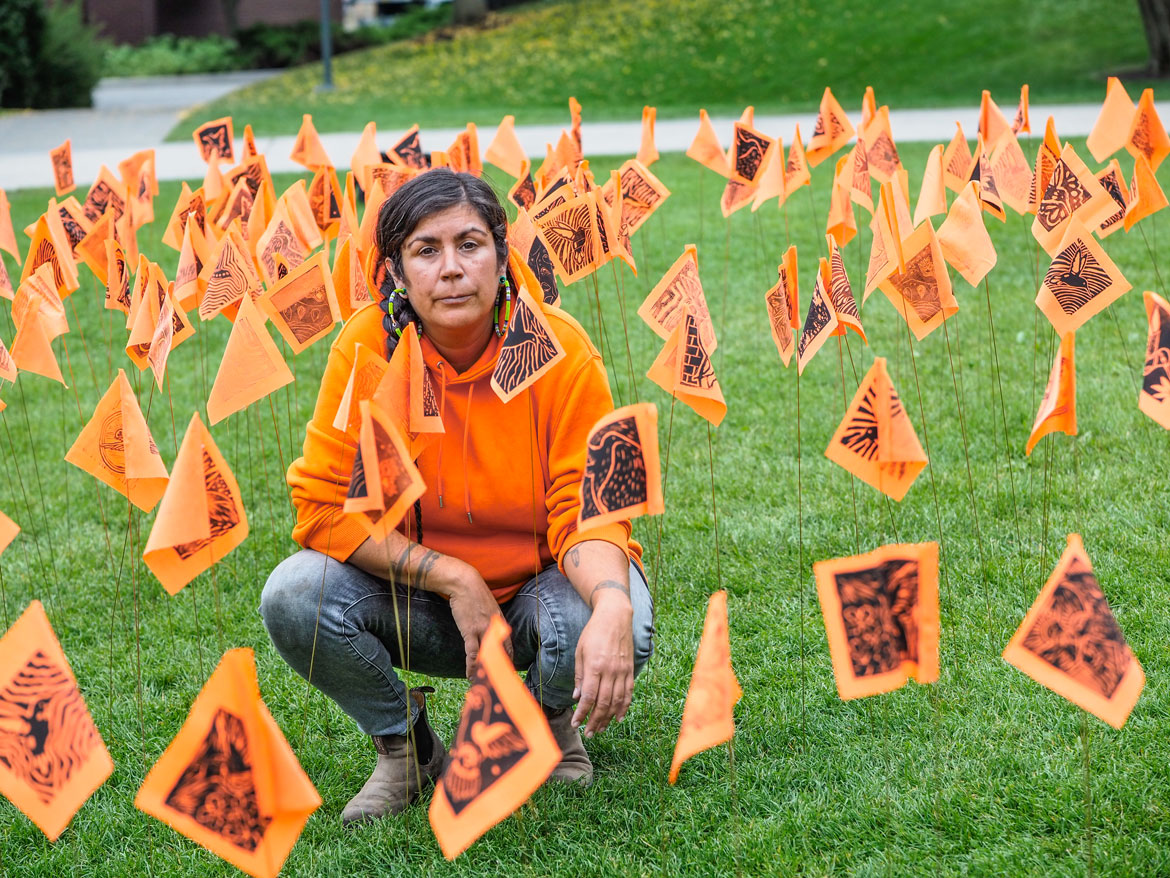 Tania Willard, Principal's Research Chair in Indigenous Art Initiatives (Tier 2)
When Tania Willard moved back to her home territory of Secwepemcúl̓ecw after being a practicing artist in Vancouver, she was drawn to the idea that the real art gallery is the land.
"Our art forms are so tied to the land in materials that we harvest and then transform into artistic expressions," says Willard. An Assistant Professor in Visual Art, Willard combines Indigenous plant knowledges with contemporary art, which includes sun printing, lens-based work and alternative photography.
This connection to the land includes Willard's work in Secwépemc language revitalization, which in turn continues to inspire her art. One example is T.susúsu7t, the word for bead that refers to a dew drop on a leaf.
"If you think about a spherical dew drop, it's a really beautiful way that a new material that was introduced, beads, were then compared to something on the land. It's an enriching way of thinking through artist materials and connecting to land."
Willard is also the Director of the Indigenous Art Intensive and the UBCO Art Gallery, which includes the forthcoming professional gallery space in UBCO Downtown. This new university gallery will be the first in the BC Interior, and Willard's looking forward to making space for experimental approaches as well as local Syilx and Indigenous artists and artists with diverse and inclusive practices.
"My work seeks to affirm and make space for creative ways of being because it's transitional, pivotal and revolutionary for people to be able to be in touch with that part of themselves."
Principal's Research Chair in Indigenous Health and Wellbeing (Tier 2)
The final PRC is an allocation for a new hire of a top-tier scholar in the School of Nursing with the intended title of Indigenous Health and Wellbeing.
"We are pleased to have been awarded this Principal's Research Chair in Indigenous Health and Wellbeing," says Dr. Marie Tarrant, Dean of the Faculty of Health and Social Development. "It's a uniquely interdependent Chair, in that the appointed nurse scholar shall also serve as mentor, advocate and ally to deepen and broaden research on Indigenous health priorities as identified by the communities. As such, this Chair appointment is a collective step towards our commitment to the Truth and Reconciliation Report's Calls to Action specific to education, health and justice."
With this announcement, UBC Okanagan has a total of 24 faculty members who have been named Principal's Research Chairs.
"We couldn't be prouder of these outstanding UBCO researchers," says Dr. Phil Barker, Vice-Principal, Research and Innovation. "The PRC program helps identify the best and the brightest on campus and supports these researchers to make bold new discoveries in their fields. Each of these researchers has the potential to profoundly transform not just our campus, but the wider community."