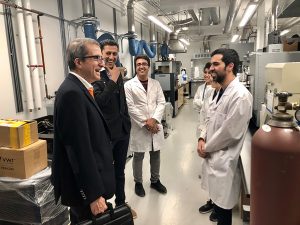 Federal research funding agency head, Alejandro Adem, inspired by ongoing research progress and impact
Past successes and future opportunities were the main topics of discussion when Natural Sciences and Engineering Research Council of Canada (NSERC) president, Alejandro Adem, visited UBC Okanagan.
The recent day-long trip marked the first time an NSERC president has visited the campus. Adem reached out to UBCO to arrange the visit, having been impressed by the university's research progress in the fields of engineering and natural sciences.
"I wanted the opportunity to hear first-hand from leaders, researchers and students, and to see the campus for myself because I've been impressed with how it has developed over the years," said Adem. "The excellent partnerships that have been cultivated and the vibrant group of young researchers are yielding terrific results."
UBCO is one of the fastest-growing research campuses in Canada, with research activity increasing more than four-fold since 2015.
Total research funding increased from $11 million in 2015 to more than $46 million in 2022, and is projected to increase to more than $60 million by 2023.
UBCO has attracted more than $9 million in NSERC grants this year alone. The federal funding organization is fuel in the tank for UBCO science and engineering research, said Vice-Principal of Research and Innovation Phil Barker.
"We're working hard to respond to shifting programs and have been actively partnering with Indigenous communities, municipalities and private industry to perform research that is relevant to our stakeholders," said Barker. "With NSERC's support, the work is having a tremendous, real-world impact."
UBCO Principal and Deputy Vice-Chancellor Lesley Cormack reinforced that past successes at UBCO have positioned Okanagan researchers well for the future.
"We are rapidly gaining speed and are poised to steadily grow research activity and, importantly, our impact and contributions in the communities we serve," she said. "We have the potential to change the conversation and make leaps in a number of areas, including clean technology and agritech. We're fulfilling our promise to become a great research university in the BC interior. We are just getting started and are excited about how much more we can do."
Over the course of the day, Adem held round-tables with researchers and students and discussed progress on EDI initiatives. Visits with UBCO's Bioreactor Technology Group and researchers at the Innovation Precinct provided a first-hand perspective on the work being conducted.
As a world-class university in the heart of Okanagan valley, UBCO is having a tremendous impact on the region that is only going to increase in the coming years, said Adem.
"I'm a big admirer of what UBCO has done in a short amount of time," he said. "The acceleration is hard to miss – I look forward to what's ahead."